current & upcoming classes & workshops
Commedia dell'Arte Winter Workshop
Creating Original Material
Mask Making July Workshops
Metaphysical mask lab
Clown nose and mask making workshop, leather, neoprene & paper
Stanley's history - reviews - comments
Directing
---
"People have been asking for a short summer workshop. We will cover the basics of the northern Commedia dell'Arte. It has been part of our theater from the 1500's. Women broke the barriers of the stage with Commedia dell'Arte". Stanley Allan Sherman

Commedia dell'Arte
Summer Workshop
June 24 - 28, 2013
actors, artists, dancers, directors, teachers, students & variety artists
$465 for 5 days
Roving Classical Commedia University* (RCCU*)
RCCU teaching Classical Commedia dell'Arte since 2001 as close to its original form as we believe it was performed in the 1500's to 1600's. You develop your personal historical Commedia dell'Arte characters and style with your individual qualities.

Areas of concentration:
Commedia dell'Arte characters
History of the characters; their movement and gestures, improvisation, lazzi, mask work, physical skills, prop manipulation, rhythm, scatology, scenario work, and more; all integrated.
Arlecchino
Pantalone
Dottore
Capitano
Brighella
Lovers

Women of the Commedia dell'Arte
Hours
Monday - Wednesday 9:00 AM - 5:30 PM
Thursday, Friday 9:00 PM - 4:30 PM
Optional personal warm-up starts at 8:30 AM

Scenario & Improvisation
Much of the scenario and improvisation work will be from our own translation of four Flaminio Scala scenarii* we believe were performed by the legendary Gelosi Company 1572 to 1604, plus an anonymous scenario from 1611 we recently discovered.
Taught by master teacher:
Stanley Allan Sherman
bio, reviews & client quotes
212-255-2882
Contact Stanley
Academic credit:
For students or teachers seeking academic credit please discuss the possibility with your academic advisor about receiving credit as independent study. Teachers seeking CEU's, please speak with your administration about receiving credit for this non-accredited workshop. We are happy to help you with any documentation you will need. A public school teacher has receive credit for our workshop.

Ask about workshops at your you school or theater company, anywhere in the world.
NYC workshop housing options:
Bed & Breakfasts, Sublets, Roommates, Hostels, YMCA's & More
---
This video is from one morning in three weeks of the our Commedia dell'Arte intensive summer workshop. For information about workshops coming to your school, theater company or institution please contact us.

---
"Jacque Lecoq told our class close to our graduation day in 1972 "Do not wait for the great part to be written for you, create it yourself." This helped me live as a performer and creator since 1972". Stanley Allan Sherman
Creating Original Material
theater lab workshop
solo artists, clowns, performers, small groups & more

June 17 - 21 New York NY
5 days
9:00 AM to 4:00 PM sometimes 5:00 PM
This lab covers the many techniques, practices and road maps to create your original material and show. This knowledge comes from my teachers, mentors, colleagues, a lot that I have developed, discovered and use.
The goal is to create your own material and ultimately your own show. Creating is hard, then fun, then exhilarating.
$445 - individuals working solo
$395 - per person for partnerships working together
Creating Original Material is the next step in performance development. Working though changes with Stanley illuminates a path that can be used again and again. - Michael Getlan
The workshop challenged me to jump-start a project I had been incubating. I was surprised--astonished, really--at how it fell together in the workshop. Before this, I had never imagined myself as able to write for myself. Now I have proven to myself that I can compile a performance from a simple prop and an idea. - Jonathan Slaff
Stanley has an amazing eye for developing material, for seeing where the opportunities lay in a scene; but more importantly, he's able to communicate and inspire performers to find these opportunities for themselves. The class is a joy. - R David Robinson
Taught by:
Stanley Allan Sherman
bio, reviews & client quotes
212-255-2882
Contact Stanley

Latest blog post Creating Original Material
What! Me? I thought there was nothing new.

---
"In a 1970's article I read about a mask maker in Bali that put souls into the masks he made for use in their rituals but not the ones they made to sell. Part of the art of mask making is to be able to put a soul into your mask". Stanley Allan Sherman


Mask-Making Summer
July Workshops
Leather Clown Nose making workshop
July 9th & 10th 6:00 PM
$200
Includes all material, tools and supplies which you get to keep plus an extra piece of leather to make a nose on your own.
Two sessions about 2 1/2 to 4 hour each. Other days are possible if there is interest. For detailed information about the custom fitted clown noses class go to http://www.maskarts.com/maskartsclown.html

Mask-making classes will run on a flexible schedule during July mainly in the mornings starting at 9:30 AM. Class can be from 1 to 4 hours depending on what stage in the process we are at. Afternoon and evening classes are also possible.
All mask-making classes covers:
Design development
Sculpture of the mask
Mask Making Technique for Paper or cloth, neoprene latex and or leather Materials, supplies tools and where to get them or how to make them
Paper & Cloth Meche
July 8th - 12th to 15th
$325
This class includes all your basic supplies, paper, clay, tools and glue. Students can bring in cloth for cloth meche.
Neoprene Latex
July 8th - 17th to 19th
$450 (take both Paper and Cloth Meche and Neoprene Latex $595)
This class includes all your basic supplies, clay, tools, mold making material, neoprene latex and some finishing materials. People are free to bring in special paints and other finishing materials. This class includes how to put in hair.
Leather Mask Making
July 8th - 23rd to 28th
In the mornings and sometimes in the afternoons
$1,945 (take all three mask making classes $2,275)
This class includes some of your basic supplies like clay, some sculpture tools, master mold making material, some leather and some finishing materials. Part of the class is buying your own leather tools and some optional finishing tools. Buying and making tools and supplies is part of this class.
It is common for student to take their clay sculptures home with them to work on them.

Taught by:
Stanley Allan Sherman
bio, reviews & client quotes
212-255-2882
Contact Stanley

---
Metaphysical Training Mask Carlo Mazzone-Clementi developed,
we continue the explorations.
"After the first theater Metaphysical Mask Lab, I walked out of the studio and all day I saw the world in a deeper more revealing way." - Stanley Allan Sherman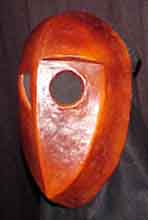 "Character starts with the foot."
- Carlo Mazzone-Clementi
Over this last year we have completed two explorations with the Metaphysical mask and have discovered a lot about this powerful mask.
We will explore the Metaphysical mask using current and new exercises as well as Jacque Lecoq's, Neutral mask exercises.
Stanley Allan Sherman created a Metaphysical Mask with and for Carlo. A year ago with the help of Peter Kors we found out how Carlo used the Metaphysical Mask. Because of these labs Stanley has exchanged information with others in Europe and the United States that use the Metaphysical Mask, including Ole Brekke that has replace the Neutral mask with the Metaphysical mask at The Commedia School.
These are pioneering investigative labs. This work is quite amazing and helpful with many forms of theater, bringing one to use only the minimal movement that is needed. The Metaphysical Mask gets to the soul of the performer and actor. This is a physical mask movement lab for actor, clowns, directors, dancers and creators.

Metaphysical - Neutral Mask Lab:
Contact Stanley or call 212-255-2882
The August 2011 lab with Peter Kors & Stanley Allan Sherman was a big success. Here is a video from the lab by Jim Moore entitled "Metaphysical Mask Improv" on his blog http://vaudevisuals.com.

You can also join the new Metaphysical Mask Connections group on facebook.
---
Custom Fitted Leather Clown Nose Making Workshop

Leather Clown Nose Making Workshop Information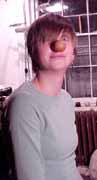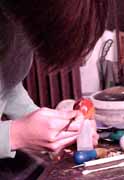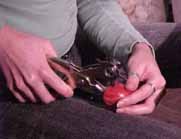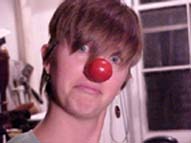 Jenna Horton making her first clown nose
---
I teach Mask Making in groups and privately. There are three areas of mask making I teach: Sculpture of the Mask, Papier-mâché Mask Making and/or Leather Mask Making. If you would like me to teach a Commedia dell'Arte Workshops designed for your situation contact me to discuss your project.