Leather and Neoprene Commedia masks are made from similar molds. The difference is performance quality, feel, look, durability and comfort. For professionals, recommend ordering leather Commedia dell'Arte masks. Neoprene Commedia Character masks are excellent for tight budgeted theatre, performers and drama education. A leather Commedia dell'Arte mask for a theater department can last 10 years or more. I've used some of my leather masks for over 20 years.
Tight Budgets:
Neoprene Latex Masks are available in - Raw unfinished, Finish and Finished with Hair. You can add options of Moleskin Lining and/or Adjustable Elastic to Finished and Finished with Hair masks. This is one way of giving you options that fit your budget when ordering. You can buy unfinished Raw Neoprene Latex masks for a real budget saver which you, your team or students have the experience of finishing. Costumers and Designers enjoy Raw Neoprene Latex masks to finish for their production so they match their show design the way they want.
How are they different:
A leather mask is more comfortable, durable, breaths better and will adjust to your face over time. In performance or classes, has a better feel and energy. It is one of two materials which the original Commedia dell'Arte masks were made from; the other was waxed paper. A leather theater and teaching mask will last longer than a neoprene mask. The leather masks comes with an adjustable elastic strap, hair or no hair, your choice. Neoprene masks, these are options to fit your budget. Both effective performing and teaching masks.
How are they the same:
The same high quality designs are available in both leather and neoprene. You can get custom coloring and hair on both types of masks.
Improved Adjustable Elastic:
Adjustable elastic is available to hold your masks on better. You can tighten or loosen the elastic to your need; even when the elasticity wears out.

Commedia dell'Arte
Character Mask Departments
Click on the topics to go pages
Carlo Mazzone-Clementi: Mentor & Master

When ordering neoprene masks remember to say if you would like Adjustable Elastic & Moleskin Lining added to your masks when ordering.
---
News
Three new Commedia dell'Arte mask designs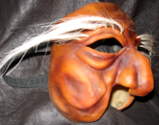 The elderly women of the Commedia dell'Arte
1: Laura, Pasquella, Ruffiana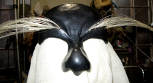 2: Dottore #3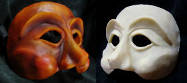 3: Female Character #2 & Lover
finished and raw. Available in Leather or
Neoprene latex .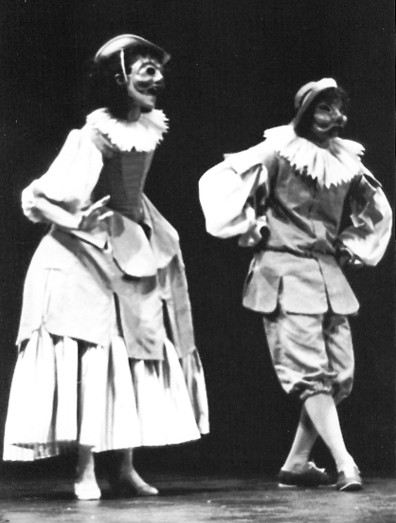 New York Baroque Dance Company, Arlecchinette and Arlecchino performing a baroque dance under the direction of Catherine Turocy in 1980. She was the first company to order custom masks from me after seeing my mask exhibition at NY Lincoln Center Library and Museum of the Performing Arts. This occurring after creating the set of masks for Carlo Mazzone-Clementi. These same leather masks along with others from 1980 are still in active use today in 2018 with her company, 38 years later.
The Performing Slapstick is back
Time to give Arlecchino back his slapstick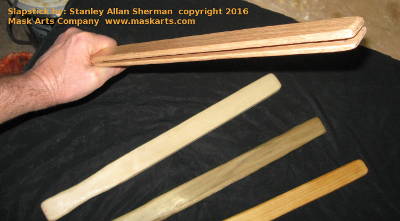 The term "slapstick comedy" comes from Arlecchino's slapstick instrument and prop. After years of design testing, research and development, I am happy to have created The Performing Slapsticks, an instrument and prop; that looks a stick. A slapstick, creates a loud smack sound with a light tap. Arlecchino could not afford a sword, as a replacement Arlecchino used a simple stick; which developed over time into the Slapstick. Most of today's slapsticks are bulky with a large spring hinge used to make the smack sound, by musicians in the orchestra pit. "The Performing Slapsticks" has no hinge or spring; which making them safer to use and easy to handle. Taking time and craftsmanship, each is created.
19" Poplar Slapstick .... $150
19" Oak Slapstick ........ $200
24" Poplar Slapstick .... $200
24" Oak Slapstick ........ $250
Read: Mask Arts Company Blog
Slapstick designed for the performer.
My journey in creating these slapsticks over the years.
For custom or unique Slapsticks
To order: Stanley Allan Sherman- Mask Arts Company
or call 212-255-2882
video by: Jeremy Charles Hohn
Actor/Clown/Educator

---
Tribute to Carlo Mazzone-Clementi 2018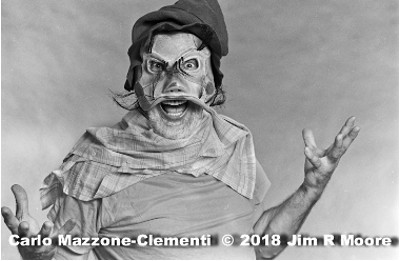 VaudeVisuals.com
writings and video interview about Carlo: Hovey Burgess, Stanley Allan Sherman, Peter Kors, Lou Campbell, Ph. D. and John Towsen. Photo above Carlo is wearing his Brighella mask I created for him. Carlo considered it his Commedia dell'Arte character.
"Theater" Can Lead to a Lot of Careers 2018
Set Design and Theater Tech
. By: George Ledo, contributions from Elizabeth Rand, lighting designer and Stanley Allan Sherman. Question from the Educational Theatre Association Open Forum
New York Theatre Wire 2006
"Il Dottore Explains It To Us All"
by Stanley Allan Sherman
Back Stage "Commedia Tonight"
by Jean Schiffman February 26, 2007
Clown Link: guest post: What makes a Great Commedia Mask? by Stanley Allan Sherman
February 19, 2011

Commedia dell'Arte: The Essential Scenario - Actors Freedom
The Soul of The American Actor July 2011
by Stanley Allan Sherman
American Council on the Arts: American Arts Magazine
State of the Art, Mime September 1980
by Stanley Allan Sherman
Soul in Your Mask 2013
by: Stanley Allan Sherman
Mask Arts Company Blog
Commedia dell'Arte - Teatro di Gioia - Joyous Theater
by: Stanley Allan Sherman 2013
Mask Arts Company Blog
Creating Original Material 2013
by: Stanley Allan Sherman
Mask Arts Company Blog
What is Clown Theater 2011
by: Stanley Allan Sherman
Mask Arts Company Blog
Neutral Mask - Sculpting for Breath 2013
by: Stanley Allan Sherman
Mask Arts Company Blog
Fay Lees Lecoq - thank you 2012
by: Stanley Allan Sherman
Mask Arts Company Blog
Recommended books on Commedia dell'Arte
---

Health alert:
People who are allergic to neoprene latex or leather should consult their physician before using the masks.