Mask Arts Company News
Articles, Classes, Mask News, Shows, Workshops
A new musical, "The Butcher Boy," Produced by The Irish Repertory Theatre, NYC. Book, Music & Lyrics by Asher Muldoon. Based on the novel by Patrick McCabe, with Nicholas Barasch as Francie Brady running through August 11, 2022.
Mask Design: Stanley Allan Sherman, Mask Arts Company.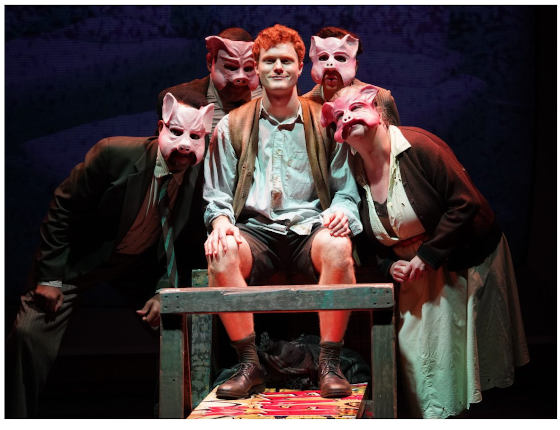 Pig #1 Teddy Trice, Pig #4 David Baida.Pig #2 Carey Rebecca Brown,
Pig #3 Polly McKie, Nicholas Barasch as Francie in the middle.
Photo used with permission from Irish Repertory Theatre. Photos by Carol Rosegg

NY Times review
August 2, 2022
In 'The Butcher Boy,' an Anti-Coming of Age Story
"They creep in from the shadows, snorting and snickering. The singing pigs that skulk and shimmy through "The Butcher Boy," which opened on Monday at the Irish Repertory Theater, are silly but also half menacing. Below the neck, they're dressed like townspeople in 1960s Ireland, where the new musical, written and composed by Asher Muldoon, is set. From the jowls up, however, their snout-nosed masks are eerily impassive.
The swine chorus appears to be a totem of indecency, embodying the dark and unknown depths of the show's narrator, Francie (Nicholas Barasch), a jaunty lad with flame-colored hair and an implacably sunny disposition. . . ."

NY Times, The Butcher Boy review
The Irish Repertory Theatre: tickets, information, reviews, photos, creative team



Performing Slapsticks is back. Designed for Commedia dell'Arte performers: now available.
After years of design testing, research and development, happy to have created slapsticks that looks like Arlecchino's replacement for his sword; which is a simple stick. His stick, is a slapstick, which creates a loud smack sound with a light tap. Yes the term "slapstick comedy" comes from this instrument and prop.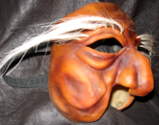 Three new Commedia dell'Arte mask designs
elderly women,Laura, Pasquella, Ruffiana, Dottore #3 and Female Character #3
Leather and Neoprene Latex in
Raw,
Finished
Finished with Hair.
2015 Drama Desk Nominee:
The Queen "Katherine Crockett" of Queen of the Night "Queen of the Night" on Broadway in NYC. One of my most challenging masks. Some amazing photos from the show.
BlackAndWhite Persona & Multicultural Mask
Rap artists from Brooklyn and their new set of masks. Created for a different singer the Multicultrual Mask is made of many races.
Mask Making workshops
Paper/cloth meche, neoprene latex, leather. custom leather clown nose
Mask Arts Studio NYC from $200 to $2,375
Director and Development - solo, independent original shows
Conan O'Brien's Hasidic Maskmaker
Forward article By: Laila Caron about Mask Maker - Stanley Allan Sherman
Follow Mask Arts Company on facebook: mask making tips, daily to weekly updates, theater reviews, theater & teaching tips ~ www.facebook.com/maskartsnyc
Articles by Stanley Allan Sherman:
Mask Arts Company Blog
maskarts.com/wordpress
Geo Friend-Lee Planet Earth Mask


DJ rap hip-hop artist Supa Soul-ja mask that lights up and glows in the dark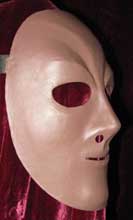 The Neutral Masks were tested at American Academy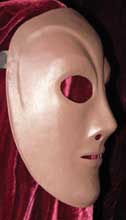 of Dramatic Arts here in New York, NY. They are effective. One thing about sculpting neutral masks is, it is an on going process. These Neutral Masks will be male and female Series #4 and I am continuing to sculpt the two neutral masks and will come out with neutral masks male and female Series #5 sometime in the future. Most neutral mask colors are available.

The Metaphysical Mask a unique actor training mask
developed by Carlo Mazzone-Clementi.
The Nutcracker Ballet Masks
made for the Joffery Ballet School Production
Masks that dancers can dance in.
Commedia dell'Arte: The Essential Secenario - Actors Freedom
The Soul of The American Actor July 2011


Guest Post: What makes a Great Commedia Mask?
by Stanley Allan Sherman, February 19, 2011, blog Clownlink


Il Dottore Explains It To Us All written for
By Stanley Allan Sherman New York Theatre Wire
NY Clown Theatre Festival Blog on the 2007, 2008 & 2010 www.nyclowntheaterfestivalstanley.blogspot.com/

Directing
Duet for Solo Voice by David Scott Milton with Jonathan Slaff, Rachel Krah and David Zen Mansley at Theater for the New City in New York NY.
'Beast of Festive Skin' Alexandra Tatarsky New York Fringe Festival
'Now Leasing' Solo Show: Lea McGowa, LA Fringe Festival, The Slipper Room, NYC, Edinburgh Festival, Scotland


Recommended books on Commedia dell'Arte
---
Give a Gift Certificates for masks, clown nose or classes.
Mask Arts Gift Certificates
---
a few clients and exhibitions:
Abuni wrestling mask
Abyss wrestling mask
Andrew Rosevelt Theatre Company, TX
Brazos Port Theatre, Lake Jackson, TX

Big Apple Circus
Bond Street Theatre Collation (Lots of leather clown noses)

Book Cover Mask for of Jeffery Deaver, "The Vanished Man"
Celebration Barn Theatre Commedia dell'Arte Intensive
Boston University Commedia dell'Arte Masks for Professor Judith Chaffee
BAVARIAN INTERNATIONAL SCHOOL, Germany
Blue Teapot Theater Company, Galway City, Ireland

Coach Leatherwear Museum, Permanent collection

Carlo Mazzone-Clementi …Dell'Arte School in Blue Lake, California
Carolos Fittante of Balam Dance Theatre, New York, NY
Children Theater of Charlotte, NC
City Theater, Sacramento, CA

Clown Noses for Clowns around the world
Club de Teatro del Colegio Maristc, San Juan, PR

Colorado Dinner Theatre, "Phantom of the Opera"
Color and Light Theatre, Hunting Beach, Ca
College of William & Mary Commedia dell'Arte workshop with RCCU*
Constellation Theater Co. Washington DC
Cotuit Center for the Arts Commedia dell'Arte workshop with RCCU*

Danielle super model
Dickinson State University, Dickinson, ND
Eight Black Birds
Eve St Ievenard, France
Frank Sinatra School of the Arts

First & Second International Leather Conference's

Fordam University Theatre Department
Graham Lustig Dance Theater, NJ
Green River Community College, Auburn Washington

Hunter College Theatre Department
Joffrey Ballet School Rat Mouse masks for THE NUTCRACKER

International Clown Conference, Philadelphia

International Mask Conference 2005

International Performance and Production

Iona Collage Theatre Department

Jeff McBride, Magician
Joffery Ballet School, New York NY mask design for the Nutcracker and workshop

Kerry Knowlton "Hell Cage" Film
Liberty Theater, Astoria, OR

Le Rire Medecin of Paris, France (Clown Noses)

National Mime & Clown Theater Festival, Ohio
New School of North Virginia

New York Baroque Dance Company

New York Museum of the Performing Arts at Lincoln Center, longest running exhibition in the history of the museum
New York Theatre Club, New York, NY
Night Owl Theatre, Kelowna,BC, Canada
Norwood Performing Arts, Ohio
Manhattan School of Music, New York NY
Mahattan Theater Club
Manhattanville College, New York
Maria Hermoni, Tel Aviv, Israel
Mosqidou Records, Dorchester MA
Mick Foley with the WWF ManKind Mask
Manitowoc Public School District, Manitowoc, WI

Objects of Bright Pride Galleries, New York and Alaska

Ohio State University Theatre Department
Oak Glen High School, New Cumberland WV
Queen of the Night, NYC
Opera Lyrica, Osford, UK
Opera Australia

Patch Adams (Clown, MD and healer and all around good guy)
Paul Shipper, NY
Peregrine Productions, Hillsboro, OR

Philippe Petit (High wire walker)
"Phantom of the Opera" for various road companies
Rebeca Gardner, Savannah GA
Richard Stein, Nashville, TN
Robert Fullmer, PA
Rockwall-Heath High School
Riverside Unified School District, CA
Rochester Latino Theater Co. NY

Roving Classical Commedia University* (*Totally Unaccredited)

San Francisco International Vaudeville Festival
Sacramento Shakespeare Festival, CA
Speak The Speech Theater, AZ
Spring Oprea House, Columbus, GA
Stark Ravens Historical Player, Vallejo, CA
Steven Becke, NY
St. Mary's High School, Kitchener, Ontario, Canada
St. Olof College, Northfield,MN

"Stanley Allan Sherman AERO SHOW Featuring the Star Spangled Banner
Supa Soul-ja DJ and Rap Artist
The BRIT School For Performing Arts and Technology, United Kingdom

The House Theatre, Chicago "Valentine Victorious"
Theater Mann; Istanbul Turkey, 5 day workshop & purchased a collection of masks

Theatre Sanez, NY dance theater, Alaskan bone mask for the show, "Bones"

Theatre Works USA "Phantom of the Opera"
The Shakespeare Forum
Tiyatro Maan, Istanbul Turkey, Commedia dell'Arte workshop
Washington & Lee University, Lexington, VA Commedia dell'Arte workshop

World Wrestling Federation (now World Wrestling Entertainment)
Mankind Mask
Sultan Mask
Undertaker Mask
University of Chicago, Chicago, Illinois
Vasily Torkanovskiy, Moscow, Russia
Yale Summer Conservatory
Yale Theatre Studies